The Heroes' Monument was constructed to honour the heroes of the liberating fight of 1955-59, Stylianos Lenas and Demetrakis Christodoulou. It is located in the centre of the village, at a specially configured space between the church and the community building.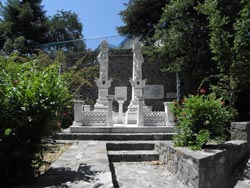 The Monument constitutes of marble columns and statues of angels, as well as an inscription bearing the names of the heroes. Originally, the monument was created in the 60's, but it was reconstructed due to damages.  
The unveiling ceremony of the Monument was held on the 28th of May 2000 by the former Minister of Interior Mr. Christodoulos Christodoulou. 
Stylianos Lenas
Stylianos Lenas was born in the village of Handria. After graduating from the primary school of his village, he worked in the city, whereas later on he studied in Leros. When he returned, he opened his own shop. As Assiotis* distinctively writes, Lenas was one of the first who joined the liberating organisation of E.O.K.A. He was an excellent fighter and was capable of conducting guerilla war and to manufacture bombs and grenades. When the British began searching for him, he sought shelter in the mountains of Troodos and became a guerilla fighter. During one of the battles that followed against the British, Stylianos Lenas was seriously injured. This battle took place on the 17th of February 1957 in Potamitissa. He was transferred to the hospital in Akrotiri where he passed away on the 28th of March 1957.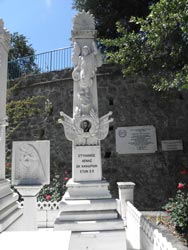 Demetrakis Christoudoulou
Demetrakis Christodoulou was born in Deryneia. He attended the Primary School of Deryneia, whereas he continued his studies at the Gymnasium of Ammochostos. At the same time, he was a distant learner of the Department of Radio Service at the Technical Centre of Athens. His dream was to become an electrician.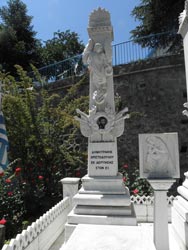 While continuing his distant studies, he began working for the Electricity Authority of Cyprus and was rapidly promoted. He even managed something which was considered quite difficult at the time, which was to buy a car that was later used in the fight against the British both by himself and his fellow fighters. Demetrakis Christodoulou took part in several battles against the British. On the 17th of February 1957, Demetrakis Christodoulou fell fighting for his country. Stylianos Lenas was also seriously injured during the same battle.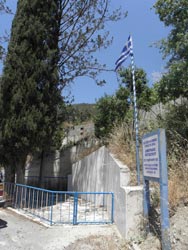 Sources:
Potamitissa Community Council
With regard to Stylianos Lenas, information was obtained from Georgios Yiagkou Assiotis, The E.O.K.A Fight, 1955-59, Lefkosia 1997
With regard to Demetrakis Christodoulou, information was obtained from the following website:
http://myweb.cytanet.com.cy/iaae5559/biographies/christodoulou.htm